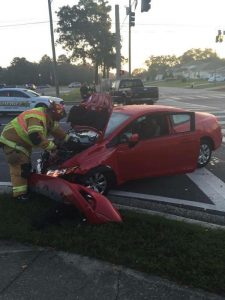 There are many things swirling around because this is a huge thing.
But there's no such thing as an "ACCIDENT," someone made a mistake and you are struggling from it,but here's the best things to do:
Call a friend or family member and tell them you've had a wreck and ask them to come and be a witness, give you a ride.
Get your cell phone out and take video (but DON'T TALK on the video). At the least take PICTURES of everything including:

video or pictures of the SCENE– WHERE your vehicle and the other vehicles are on the road (to prove you weren't at fault or other important scene evidence).
 the other vehicle's damage and license plate.
 the other Driver's insurance card.
 Damages to other property– signs, curbs, benches, poles, etc.

If you must, say "I'm sorry this happened" don't admit any fault, no matter how excited you are. Any other comment by you may be taken the wrong way.
 Make sure you give your statement to the officer, deputy or trooper. Sometimes they make up their minds without talking to everyone.  The other driver will be less than honest about what he or she did to cause the crash.
Call your insurance company and tell it's rep you've had a wreck.  Do NOT give a recorded statement at that time.  we can do that later. Also ask the company rep: "What is your company going to do for me?" These adjuster forget you paid for their services and now it's time for the company to keeps its contracted promises to you.
Consider going to a walk-in clinic if you don't have broken bones, or are bleeding badly or didn't get knocked unconscious. Too many  hospitals are rip-offs now and will bill you (a LOT) for treatment you don't need. If you were knocked unconscious, be cautious about accepting a helicopter flight.  They are about $18,000.00,want every penny of that money and not fun like the county fair.
Take pictures in the clinic or hospital of the treatment.  Don't do it when the doctors/nurses are around. This is a big deal and we will need to show how you looked.
Get the car towed to your house if you can.  Tow yards are expensive -$20.00 a day.  If the car is driveable, have someone drive it AND you.  You might not want to be driving after this.
 Call work.  Tell them you've had a crash, wreck and will have to deal with this, but you intend on coming in anyway.
CALL ME 1-800-535-3002 Don't call a  lawyer from the first name that pops up on the internet, a billboard or a t.v. commercial. Those are just the lawyers who pay the most to Google. You will just get a paralegal who will make a lot of promises, get you to sign their contract and then you're stuck with a big bureaucracy that's not going to look after you.
If you made the mistake of hiring one of those billboard/t.v. lawyer, you can fire them within 3 days of hiring and owe them nothing.  Afterwards you only owe them for costs until there's a settlement.  Fire them quickly.
Remember, you have rights.  This isn't your fault and you need someone to fight for those rights and make the insurance company do the job you paid it to do.
(c) 2016 J. Steele Olmstead P. A.