As the legislative session is now in Session (yes, RIGHT now), some folks have no idea what they want THEIR governmental representatives to do. I do though.  Please allow me to suggest this topic for you to make a call to your Representative AND Senator.
Think about this: if you are going to go deep sea fishing 25 miles off the coast, wouldn't you want the best captain who looks like he knows what to do? A real professional, right?  What about traveling a in a jumbo jet to Europe, the Far East or South America? The pilot should be a professional, right? Say you were going on a backpack trip.. professional guide right? Yet one of the most frequent important jobs in the U.S.A is done by rank amateurs every day who think they are "pretty good" at it….. with disastrous consequences. That job I'm talking about is driving on the public roads.
In 2005 according to the World Health Organization, world wide, vehicle crashes/road injuries killed 1.3 million people, seventy– six (76%) of whom were men and boys.
According to analysis of data from the U.S. Department of Transportation's Fatality Analysis Reporting System (FARS). there were 32,166 fatal motor vehicle crashes in the United States in 2015 in which 35,092 deaths occurred. This resulted in 10.9 deaths per 100,000 people and 1.13 deaths per 100 million miles traveled. The fatality rate per 100,000 people ranged from 3.4 in the District of Columbia to 24.7 in Wyoming.  The death rate per 100 million miles traveled ranged from 0.52 in Massachusetts to 1.89 in South Carolina.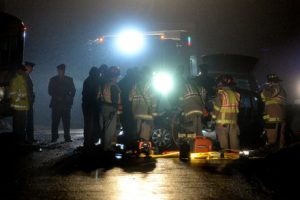 Of all estates, Florida is number 14 in rank, making it one of the leading states where you can die in a car crash. Florida's death rates  beats out 36 other states, Puerto Rico, Guam and the US Virgin Islands. In 2015, Florida's population of 20,271,272, traveled 206,982 miles.   in those miles were 2,699 fatal crashes with 2,939 men, women, girls, boys and babies killed. Note that this is more than one person per crash. This results in a alarming rate of death per 100,000 population of 14.5 and death per million miles traveled of 1.42.
Holy smokes!  How many of these crashes were caused by professional drivers? Damn few.
You see, most of the miles  driven in the U.S.A are driven by amateurs, non-professionals.
Despite all the miles you are on the road, despite all the years of driving you have done, by all the people you may have taught how to drive, despite your high school driver's Cd class, despite passing the driving test the first time, despite all the Fast and Furious movies you have seen, you are not a professional driver.  in fact, one of those most common character flaws is a person's inability to see their incompetence as a driver. "I'm the driver" everyone thinks. Wrong. A professional driver is one who is trained re-trained regularly, adopts and adheres to a code, regulation or set of standards of a profession, is tested on a regular basis and earns his or her living from driving. Think airplane pilot, train engineer, or tugboat captain only on the road.  That's professional.
You will not see any of those driver looking at their cellphones, putting on make up, turning around and yelling at the kids, eating, doing their nails or any other activity you see the person in the car next to you doing on the way to work.
So what we have in the United States is the majority of miles being driven by amateur drivers. This system of transportation depends on those amateur drivers paying attention to what they're doing. As you know drivers are driving and texting, makeup, watching videos and doing practically anything (including sex) besides paying attention to the deadly weapon they are hurtling down the road at speeds which can kill everyone.
These are not safe drivers. When you stand next to a corner waiting to cross the street, you can no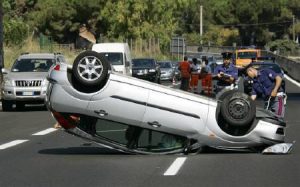 longer assume that car hurtling toward you at fatal speeds is going to stay in between those two white lines that The Florida Department of Transportation says is the road. When you sit in traffic waiting for the light to change and watch the pick up truck coming up behind you, you cannot assume she will stop. When you're a bicyclist on the sidewalk looking at the traffic coming at you you can't assume that car coming towards you will stay on the road. With our roads as they are now, if  you want to live your present life another day, you have to assume the other driver will swerve crash into and injure or kill you.
That's how it is now on the roads of Florida  with our present laws and infrastructure. We need roads that have things in them to protect all of us from the amateur drivers.
Well, who controls those laws and infrastructure? The government WE are supposed elect. Not the federal government,  I'm talking about the city, county and state government composed of YOUR Governmental. The same people who drive on the roads that you do.  This is a representative government…. they represent YOU… so….
When are our elected leader getting a call from you to complain about how dangerous our roads are? When you call, ask them: "When can I expect you to pass some law ANY law about stopping the deaths on MY roads in Florida?" It's time for our government to change our transportation system.  We can't kill this many people every year and think we are civilized.
S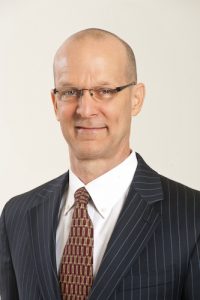 top clicking now if you are injured and searching for an attorney.
I am a full-service personalized, personal injury lawyer with a statewide practice in all 67 counties. I have 31 years of experience to put to work for you. Call so I can answer your questions: 1-800 – 535 – 3002. Email: JSteele@JSteelelaw.com  Skype: ScienceCan Facebook: https://www.facebook.com/JSteeleLaw/  Twitter: @JSteeleOlmstead or @FlaBicyleLawyr Whatsapp: J. Steele Olmstead Instagram: jsteeleolmstead.
© 2018 J. Steele Olmstead, P. A., All rights Reserved