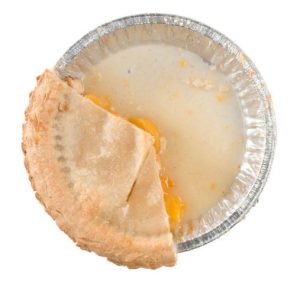 Imagine going to Village Inn with some friends paying for a full pie and the server brings you one-third of your pie, puts it on your table and walks away. Imagine paying for a movie and one-third of the way through, the screen goes black and the lights turn on- and you quietly leave. Imagine paying for 6 GB of data on your cell phone plan and, after  a ten days of use, you get a text message from the cell company  saying you are over your limit.
"That's crazy" you say.  "Why would anybody do that?" you say. "Who does something like that?" you say.  "They are getting ripped off!"  All valid opinions. You are right. Why indeed?

Yet, people all over Florida do this every single day. Every day they get one-third of the pie, one third of what they pay for.  Whaaaat?  Really?
Really.
Let me explain. All lawyers who do personal injury don't charge you money upfront.  He/she takes a fee (the price you pay for services) and the costs out of your verdict or settlement. It's the same fee all of us trial lawyers charge because the Supreme Court sets the price. Billboard lawyers charge the same. But there's difference?  There's a dirty little secret the Billboard/T.V. lawyer doesn't tell you in his advertising: he's only doing 1/3 the job for the same price as a real trial lawyer.
Some background: if you are injured, you have legal problems. If it's a car crash, you have a damaged car, you can't get to work, you might be injured and in pain so you miss work, your boss tells you you have to have medical clearance to come back to work, you got medical bills and you're hurting in  your body.  If you slip and fall, the store says it's all your fault and, even though they said they would pay your medical bills when you were laying flat on your back on their floor, they won't now. When you're a victim of medical malpractice your life is turned upside down with problems. When you hire a lawyer you hire him or her to take care of your problems.. all your problems. Why else would you hire them?  A real trial lawyer handles all those problems.
What does a billboard lawyer not do? You would be surprised. Here's word for word what a recent client told me after she fired a billboard/t.v. lawyer and hired me: "I never met a lawyer, the guy who came to the hospital was only an investigator or a "case manager," someone like that.  My truck was damaged, so I asked him how to get it fixed. He said: 'Oh, you just call the insurance company [for the guy who hit you] and work that out. We are just your bodily injury lawyers.'  I wasn't sure why I was calling the insurance adjuster (a professional negotiator) for the guy who had hit my husband and put him in the hospital. So I asked him, 'what about my business? We are losing income and my be going out of business unless we get some advice. The case manager said: "We are just your bodily injury lawyers, we don't handle that."  Her brother-in-law was outraged. He got called a local friend who recommended and then called me on that weekend.  And I answered, personally.
Shocked?  Yeah, this is pretty much how it works with Billboard/T.V. Ask anyone who's been a victim of this full-price/one-third lawyering. They had to negotiate their own car, fill out the forms for lost wages. You might just hear the phrase: "What did I hire them for? I did most of the work.
What you hire a real lawyer for is that kind of lawyer takes care of all your problems, not the just the easy part.  AND they go to court if the insurance company doesn't pay you fair value for what was taken from you by it's insured.
How can this rip off  happen? People just don't know to ask  friend or family member who has had a good experience with a injury lawyer.  So, they call that billboard/T.V. lawyer's phone number or go online to that website and get sucked into the "Monster" as one billboard lawyer called his advertising campaign.
I know you have heard: "They advertise so much they must be successful!" That couldn't be more false.
How about this alternative explanation: They have to constantly advertise because few to none of their former customers are happy, so they don't get referrals of new clients from their old customers. They cover up the lack of referral clients from former clients by constantly being on billboards, radio or the TV. Their former clients are embarrassed to say they got taken advantage of and  got one-thirds of the work after paying full price, so instead they say good things about the law billboard/t.v. lawyer that scammed them.
Their advertising is all deceptive impression designed to get you to call. They are steeped in advertising jargon rather than legal. They want high "conversion numbers."  The "conversion ratio" is the ratio of the number of people they get to call versus the number who hire them.  And billboard/T.V. lawyers really focus on that, not their clients.  Why? They as spending a cr*pton of money to stay in your face all the time. Billboard cost around $1,900 a month. Each and every one of them, though some cost more. Television advertising costs about $100,000 for a 30 second spot. Why else would an Orlando billboard/T.V. lawyer advertise in Tampa or Jacksonville? Florida has  five major markets for advertising with lots of folks watching television.  So, these advertising lawyers, want high "conversion number" to get  as many clients as they can get for their advertising dollar.
Billboard/T.V. lawyers getting unsuspecting victims of injury then only doing one-third the job.  So they victimize their own clients. It's pretty shocking and pretty slimy.  Lawyers are supposed to help. This is help? Not to a real trial lawyer.
When you meet someone who has hired a real trial lawyer using a personal recommendation, you will find someone who got what he or she paid for and had all of his/her problems handled by a lawyer who was competent and ready to go to court if the insurance company didn't play nice.
So, how do you pay full price and get one-third of the pie?  By hiring a lawyer for your injury case from a Billboard, radio or TV.
Call me instead. 1-800-535-3002.