Ask almost anyone in the state of Florida and you'll have a hard time finding someone who hasn't seen  "411 Pain" advertising.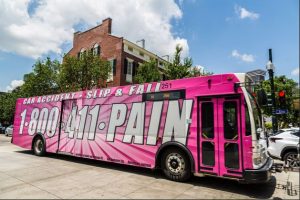 There have been a number of exposes' of the practices of this company, including an excellent one from Miami New Times from 2010. That's newspaper/neighbor of the home office of 411 Pain. The article was published more than seven years ago. Despite this, despite the oppressive advertising and despite the obviousness of what the state of Florida could see the company was doing, the Florida Legislature has done nothing to protect the public from this company, 1–800 ASK GARY or any of the other 69 "lawyer referral services"  which cover every public space, every television, radio show or public venue  with an advertisement. These companies are called "lawyer's referral services" but their actual business practice… their reason for existence… the essential point of opening their door every day…… and the ONLY REASON they open their doors……. is to get the PIP insurance money as fast a possible from automobile insurance companies.
That is not all though. They ALSO make money from lawyers who pay them for the injured clients/patients which are treated by at the "clinics." Many people have been duped by the advertising from these "lawyer referral services." However, 411 Pain and ASK GARY are not alone.  there are 69 other ones. It is a very lucrative racket because the Florida legislature has not controlled this type of business practice or marketing.  The Florida Legislature has done nothing to protect the public, the insurance companies who sell insurance in the state of Florida and the Personal Injury Protection automobile system that provides needed medical care after car crashes. The legislature is not the only problem. The Florida Bar (which regulates and disciplines attorneys) has yet to reasonably sanction or reprimand the lawyers who work with these clinics despite the very questionable benefit the public receives from these "lawyer referral services" and the obscene amount money these companies get from the insurance companies.
The automobile insurance companies are to blame as well. For years and years and years these types of "clinics" have been aggressively billing insurance companies. every insurance company has a unit called F.I.U. This stands for "fraud investigation unit" and every insurance company has one. This department does what it name says it does – investigate fraud. yet, despite every major insurance company having one of these departments, these billboards lawyer referral services have handsomely profited. So, it is in the insurance companies' capacity to stop this and yet none of them have done it…
Until now.
GEICo on November 28, 2017 filed a federal lawsuit based on fraud and wants to recover more than $15 million it paid out to 411 Pain and its various corporate entities. It is also suing the owner of 411 pain, Robert Cash Lewin (I am not making up his middle name), his various partners, and the lawyers that have been aiding 411 Pain, Laundau & Associates, PA and The Law Offices of Kanner and Pintaluga, PA get the money from GEICo.
As I have said on my webpage, tweets, and FB posts, insurance companies are interested in keeping all the profits (that's why they fight to keep from paying on legitimate claims). Although this looks like GEICo is doing something to combat fraud, this is all about GEICo getting its money back. Perfectly fine and reasonable.  Too bad it is coming to the party so late.
Whoa buddy are these allegations are shocking. Just the initial filing of the lawsuit is 191 pages long.  The fraud alleged is stunning, the list of the bad actors – extensive, the laws violated – many, the examples of the fraud – multiple, the details- extensive. If this is a frivolous lawsuit, in this lawsuit there sure are a lot of smoking guns, with ammo, with spent cartridges and dead bodies. Whew.
Just so everyone can read for themselves, learn about thse "referral services" and the BTSL (Billboard TV Settlement Lawyers) that work with such outfits, I have attached a copy of the lawsuit. 411 Pain Law Suit It reads like a John Grisham novel.  Yes, GEICo really wants $15,000,000.00 back from 411 Pain and it's various corporations.
The juicy stuff about: 1. the fraudulent scheme GEICo alleges starts on page 25; 2. the corporate ownership of 411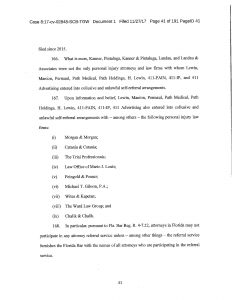 Pain starts on page 28; 3. The violations of Florida law alleged begin on page 32; 4. The list of BTSLs  and how they are working with 411 Pain ( along with some very juicy examples) begins on page 41 (See picture to left)(Of course this includes the well-known ones:: Morgan & Morgan and Catania & Catania); 5. The Florida Bar Special Committee on Lawyer Referral Services report findings begin on page 49; 6. the allegations about the "phony medical directors" (along with some juicy examples)  in the Tampa Lakeland, St. Petersburg, Longwood, Kissimmee, Deltona, at Ventura, Broward, Pines, Plantation,North Miami, Boca, Coral Springs  market begin on page 66; 7. allegation of 411 Pain's fraudulent charges for the initial examination begins on page 94; 8. allegations of 411 Pain misrepresented the severity of the patient's initial problems (along with a lot of juicy examples) begins on page 95;  8. allegations of misrepresentation of how much time was spent on the patients (so they can bill more $$) begins on page 111 and of course there are juicy examples.
It is blatantly obvious the business practices of these heavy, ubiquitous, constant and annoying advertising "lawyer referral services"  have corrupted the Personal Injury Protection system in Florida which protects Florida Citizens injured by automobile crashes. It is time for this Personal Injury Insurance corrupt system that can't seem to protect consumers or effectively treat their medical conditions be thrown out.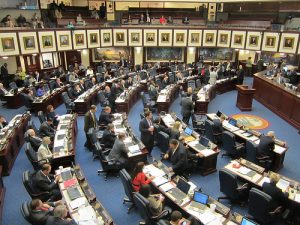 This state of affairs is very obviously a failure by the Legislature of Florida to regulate a greedy and perhaps fraudulent corporation that has used the system to enrich itself far beyond the value it gave to its "customers." It is telling that the only person out there to stop such pilfering of consumers' insurance and their insurers is the insurer.  Governments are unions of people who band together for mutual protection. The reason governments exist is to protect us from our enemies – whether it is foreign governments or large corporations that rip us off, steal our paychecks, steal our homes, sell us defective products that injure us or poison our water or air or food. When the government doesn't protect us it has failed.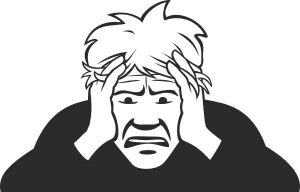 In the legislature in 2018 the Florida Justice Association and a consortium of other consumer rights groups are working to get "mandatory bodily injury" coverage made into a law. Unbelievably, Florida, a state with 18 million residents- one of the largest in the union, is only one of three other states that allows people to drive dangerous vehicles that can kill maim and destroy lives without requiring such vehicles to have any insurance to protect injured people . Let me repeat that:  The Florida legislature doesn't require drivers to have insurance to protect people that they might kill or maim.
That is insane.
Please call or write your legislator and tell them that you want the people in the cars around you to have insurance that will protect you if those people injure you. Here's how:  Contact your Florida Senator and House of Representatives member: https://www.flsenate.gov/Senators/Find